The history of the office
The office was set up in 1980 in North Rhine-Westphalia (Germany) as "Architect's office Norbert Kalka". In 1984 it was transformed into the company "Architects Kalka & Juhnke GmbH". Six years later, in 1990, a further change of name to "Kalka & Partner GmbH - Architect's and engineer's office" took place, combined with the withdrawal of the outgoing partner. Furthermore in Schlieben (situated in Brandenburg) a branch office was founded. Beginning 1991 the company moved the head office from Haltern to Schlieben. In different departments a regional planning office, a statics office and an office for civil engineering developed in addition to the architecture's office. In autumn 1991 an office as special engineering for house and energy technics was created in Schkopau, district Merseburg (Saxony-Anhalt, Germany). In 1994 this office became a self-supporting branch office at first and in 1997 it even became an independent company. With the retiring of the managing employee in the middle of year 2000 the company discontinued its activity. Therefore the scope of business "Technical building equipment" was took over again by the original company. From spring 1995 to 1997 a further architecture's office in Berlin has been managed as pure planning office. For Polish projects a "Kalka and partners z siedziba w Gliwicach" was founded in Oberschlesien / Poland in 1997. At the end of 1999 the head office and the administrative headquarters of the GmbH were moved from Schlieben to Dahme-Zagelsdorf (Brandenburg, Germany).
At the beginning of 2004 the former office seat in Haltern/Westphalia was reopened to complete projects in the region of North Rhine/Westphalia. In cooperation with the joint office of Peter Wallstein (Office for town and country planning) and the study friend Richard Gernemann (Architect's office) the planning group "Haltern - Sythen - Dülmen" was created.
Because of the increasing activities in Haltern the head office of the GmbH was shifted back to Haltern am See (into the former office) in the end of 2005.
After a contact visit 2006 in Rwanda (East Africa) project engineering as development aid (non-paid) started from spring 2007. In the consequence of the experiences gained here and won contacts, the KALKA & Partner Sarl was set up in Kigali at the end of 2008 with a native partner.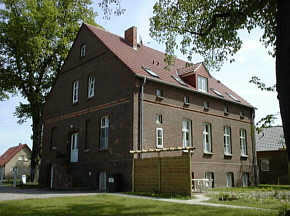 The office in Zagelsdorf

At the beginning of 2009, Norbert Kalka finally moved to Rwanda. The German company was only managed. Soon a trade in wood processing machines developed in Rwanda from a development project. Kalka & Partner GmbH buys machines in Europe as cheaply as possible, collects them in a warehouse in Görsdorf and delivers them in containers to Rwanda.