I. Department: The architect's office
(1984 - today)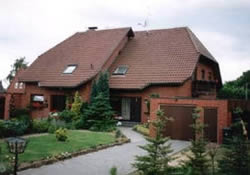 If you have a closer look at our object list of our twenty years lasting activity your surely notice that there is a strong mixture of various building projects from different fields of study available. If we have a retrospective view at our building projects, than we notice that this have nearly ever been projects with special specific demands and terms and mostly as well additional works from other fields of study had been necessary.
And this fact is the special strength of Kalka & Partner GmbH. The first most serious questions are the questions concerning the need of the customer and our considerations, which package of offers can be used for the best possible benefit of the customer. The wide range of our inter disciplinary experience enables us a qualified and comprehensive consultation, that consists not only of collected university education, but also of own carried out projects.
This department is the original firm of the manager, from that every other developed. The Kalka & Partner GmbH has often been working as general planer in the past, but you have to say that especially in the fields of sketch and site management the work has been done with a network of several partner offices. From that network of consisting office contacts it is possible to pick the suitable task force for a assignment, which can best possible offer the knowledge to realize the respective project.
---
Reference list of the architectural office Kalka time period 1979-2007: References_1979-2007_Architecture.pdf